Airbus A319 British Airways G-EUOH (White)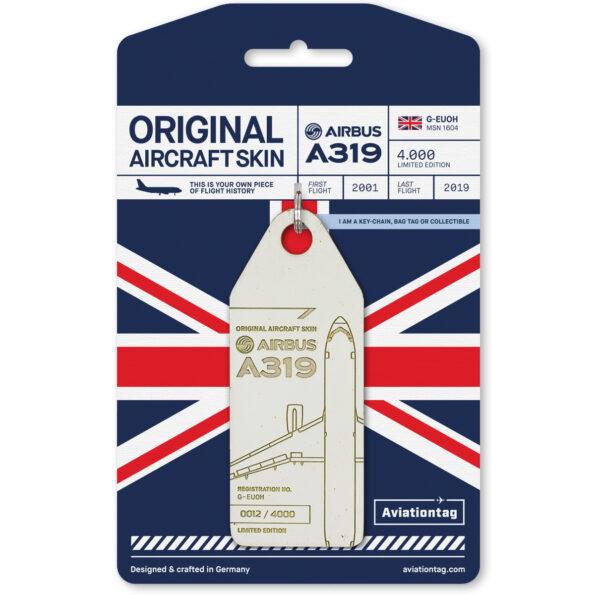 Description
Introducing our first Speedbird, which was actually also an Olympic dove: the former British Airways Airbus A319-100 sporting registration G-EUOH. In December 2001, MSN 1604 left Airbus' factory doors headed for the British flag carrier in a single class configuration with 132 seats.
During its 17 years of active service for British Airways, G-EUOH enjoyed the privilege of being one of just nine planes between 2012 and 2015 to take to the skies with a special livery to mark the London 2012 Olympic Games. In designer Pascal Anson's livery, which also covered the wings and engines, the plane had the look of a golden dove.
In 2015, MSN 1604 returned to its classic British Airways livery and remained in service for the Oneworld member until 2019. This Aviationtag edition proudly preserves a piece of British aviation and Olympic history for posterity.
Note: Every tag is unique. Depending on the plane, tags may vary in terms of haptics, material thickness and colour. Small blemishes bear witness to the plane's long history and are an authentic reminder of its glory days over the clouds. Small scratches, flaky paint and imperfections are totally normal and give our Aviationtags their unique charm – the charm of a vintage product crafted from upcycled materials. These quirks are not the result of the production process, they simply reflect the state of the aircraft material we use when it was extracted. The original aircraft paint of this edition is rather sensitive, so please take good care of your tag!
If you want to use it as a key-chain or bag-tag we strongly suggest to use the Aviationtag protection cover.
Prices Including P&P
UK - £21.95
Europe - £24.95
Rest of World - £26.95
IF YOU ARE A SUBSCRIBER TO OUR LHR MAGAZINE, PLEASE USE YOUR DISCOUNT CODE AT CHECKOUT TO GET YOUR £2 DISCOUNT.
Earn
0
reward points with this purchase
Add This Product To Your Wishlist