Airbus A321 Metrojet (Russia) EI-ETK (White)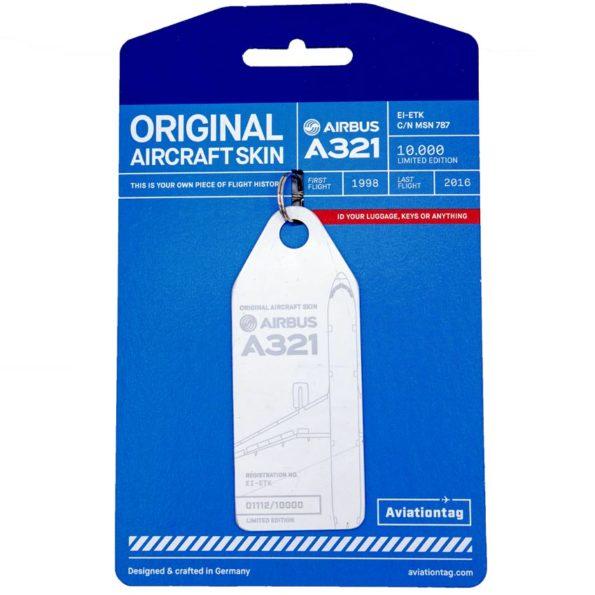 Description
Our limited-edition A321 series shares the DNA of a real globetrotter. In its 18-year history, the Airbus A321-EI-ETK has been in service for several airlines throughout the world. From 1998 to 2003 the aircraft was on tour with the German Aero-Lloyd fleet followed by five years with the Turkish Onur Airline. In 2008, the next stop was Saudi Arabia. It then finally took to the skies for the Russian Metrojet from 2012 to 2016 for the final leg of its flying career.
Note: Every tag is unique. Depending on the plane, tags may vary in terms of haptics, material thickness and colour. Small blemishes bear witness to the plane's long history and are an authentic reminder of its glory days over the clouds. Small scratches, flaky paint and imperfections are totally normal and give our Aviationtags their unique charm – the charm of a vintage product crafted from upcycled materials. These quirks are not the result of the production process, they simply reflect the state of the aircraft material we use when it was extracted. The original aircraft paint of this edition is rather sensitive, so please take good care of your tag!
If you want to use it as a key-chain or bag-tag we strongly suggest to use the Aviationtag protection cover.
Prices Including P&P
UK - £19.95
Europe - £22.95
Rest of World - £24.95
IF YOU ARE A SUBSCRIBER TO OUR LHR MAGAZINE, PLEASE USE YOUR DISCOUNT CODE AT CHECKOUT TO GET YOUR £2 DISCOUNT.
Earn
0
reward points with this purchase
Add This Product To Your Wishlist