Boeing 747 Cathay Pacific B-HUJ (White)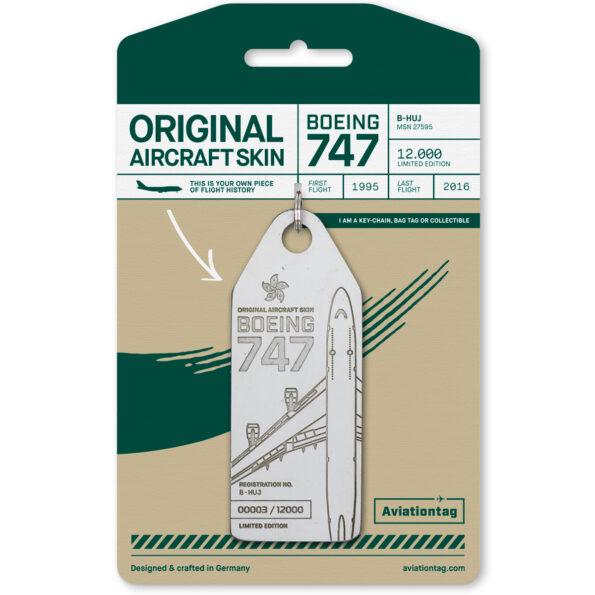 Description
The legendary Uniform Juliett!
Following the famous B-HUI, the probably even more legendary B-HUJ (aka "Uniform Juliett") is now part of the Aviationtag fleet! The former Cathay Pacific Boeing 747-400 has already made aviation history on multiple occasions: Most recently on 1 October 2016 as the last Cathay Pacific jumbo to retire from scheduled service – after clocking up 21 years of service, 4.3 million passengers and a good 53 million miles.
The B-HUJ already made history in 1998 when it performed what was then the longest transpolar flight from New York to Hong Kong (8590 miles) and was also the first aircraft to have the privilege of landing at Hong Kong's new international airport after a flight time of 15 hours and 35 minutes.
We are proud to have been able to upcycle parts of such a special aircraft from the aviation annals of Cathay Pacific and Hong Kong!
Note: Every tag is unique. Depending on the plane, tags may vary in terms of haptics, material thickness and colour. Small blemishes bear witness to the plane's long history and are an authentic reminder of its glory days over the clouds. Small scratches, flaky paint and imperfections are totally normal and give our Aviationtags their unique charm – the charm of a vintage product crafted from upcycled materials. These quirks are not the result of the production process, they simply reflect the state of the aircraft material we use when it was extracted. The original aircraft paint of this edition is rather sensitive, so please take good care of your tag!
If you want to use it as a key-chain or bag-tag we strongly suggest to use the Aviationtag protection cover.
Prices Including P&P
UK - £24.95
Europe - £27.95
Rest of World - £29.95
IF YOU ARE A SUBSCRIBER TO OUR LHR MAGAZINE, PLEASE USE YOUR DISCOUNT CODE AT CHECKOUT TO GET YOUR £2 DISCOUNT.
Earn
0
reward points with this purchase
Add This Product To Your Wishlist