Boeing 757 DHL Co-Branded D-ALEK (Yellow)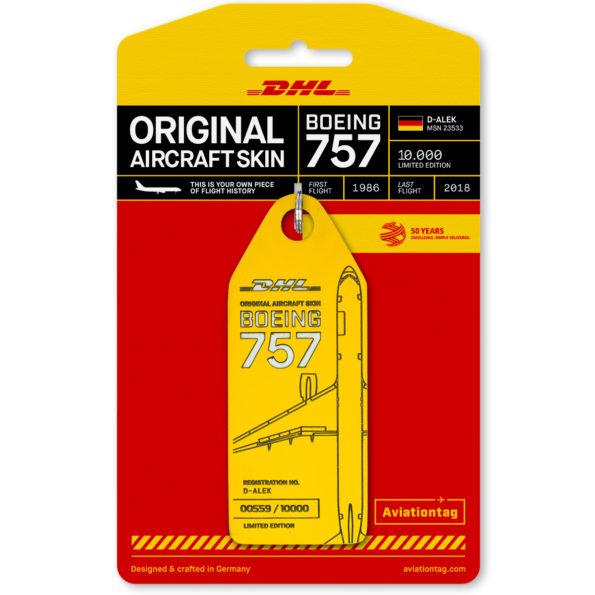 Description
After the success of the joint DHL and Aviationtag D-ALEH edition, we are proud to be able to announce the next in line today: The Boeing 757-200F D-ALEK.
The Boeing 757-200 was handed over to British Airways in March 1986 in Renton / Washington with the MSN (manufacturer serial number) 23533 and line number 93 as a purely passenger aircraft. The British flag carrier registered it as G-BIKY, christening it "Leeds Castle".
Along with other aircraft, in 2003 the 757 was repurposed into a purely cargo aircraft in Mobile Downtown (Alabama), to then be used exclusively for DHL. In the course of this, it was re-assigned to European Air Transport with the registration OO-DPN and finally to EAT Leipzig in 2010.
Under its final registration D-ALEK, it flew DHL consignments around the world until 2018, before finally being parked in Castellon / Spain on Christmas Eve 2018.
After marking 50 years of DHL, Aviationtag is now launching a new joint limited edition of the D-ALEK for commercial sale. Not just a piece of aviation history, but also a piece of DHL history
Note: Every tag is unique. Depending on the plane, tags may vary in terms of haptics, material thickness and colour. Small blemishes bear witness to the plane's long history and are an authentic reminder of its glory days over the clouds. Small scratches, flaky paint and imperfections are totally normal and give our Aviationtags their unique charm – the charm of a vintage product crafted from upcycled materials. These quirks are not the result of the production process, they simply reflect the state of the aircraft material we use when it was extracted. The original aircraft paint of this edition is rather sensitive, so please take good care of your tag!
If you want to use it as a key-chain or bag-tag we strongly suggest to use the Aviationtag protection cover.
Prices Including P&P
UK - £26.95
Europe - £29.95
Rest of World - £31.95
IF YOU ARE A SUBSCRIBER TO OUR LHR MAGAZINE, PLEASE USE YOUR DISCOUNT CODE AT CHECKOUT TO GET YOUR £2 DISCOUNT.
Earn
0
reward points with this purchase
Add This Product To Your Wishlist