Red All Over 3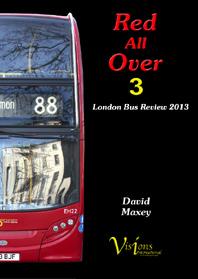 Description
RED ALL OVER 3
London Bus Review 2013
Red All Over 3 is the review of the London bus scene in 2013. The continued introduction of the NBfL obviously feature in detail. Alongside sections devoted to subjects like route changes, the sale of First Group, the return of Spirit of London,  the Wimbledon shuttles, hybrids & electrics, and vinyl variations, to name but a few. The book rounds off with a preview of the more interesting changes scheduled for 2014 . . . 
Full Contents: What Happened Next, All Change – January/February, Double Vision, Single-Deckers – Part One, All Change – March/April, Renewed Spirit, Hybrids Update, Vinyl Variations, Rail Replacements, All Change – May/June, Single-Deckers – Part Two, NBfL Conversion 1  -  Route 24, The Sale of First London, Anyone for Tennis?, All Change – July/August,Quite Interesting, Route 76 Running Day, WDL1: Red All Over, NBfL Conversion 2  -  Route 11, All Change – September/October, Euro-6 Again, NBfL Conversion 3  -  Route 9, A Shower of Poppies, All Change – November/December, Rain, Where's the Stairs?, NBfL Conversion 4  -  Route 390, New Vehicle Deliveries 2013, Type Changes Pending & Contract Extensions.
Could it be more complete? Not much.
More than 230 stunning photographs, 30,000 words, extended captions and summary tables, 120 high quality 135gsm gloss paper pages with a 250gsm gloss laminated cover, full colour throughout.
Earn
0
reward points with this purchase
Add This Product To Your Wishlist