Douglas DC3 'Candy Bomber' D-CXXX (Silver)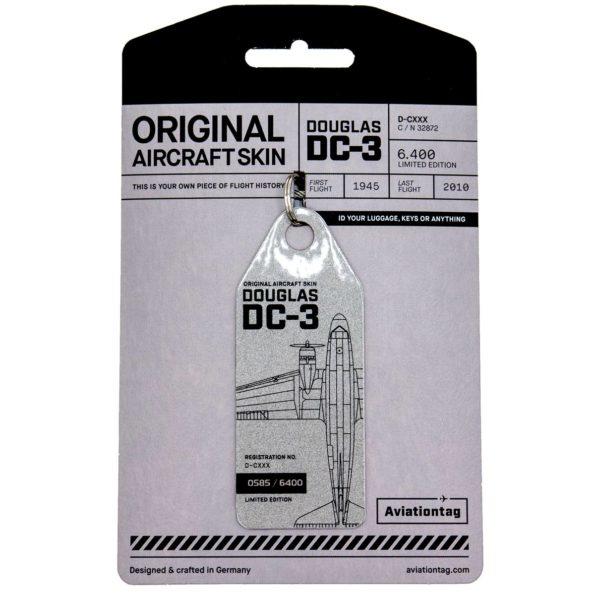 Description
Our limited-edition DC 3 Series is crafted from the left wing of the historic C-47B-30-DK – better known as the "candy bomber". On its mission during the Berlin Airlift in 1948/49 the candy bomber ensured the survival of many Berlin citizens. Afterwards it travelled half the world – from France to Indonesia – before returning to Germany, where it made its very last flight together with the historic Ju52 on October 30, 2008 at five to midnight from the world's longest serving airport – Berlin Tempelhof –  thus ending the era of the "mother of all airports".
Please note that the front-side of the tag is printed and not laser engraved, which makes it more sensitive.
Note: Every tag is unique. Depending on the plane, tags may vary in terms of haptics, material thickness and colour. Small blemishes bear witness to the plane's long history and are an authentic reminder of its glory days over the clouds. Small scratches, flaky paint and imperfections are totally normal and give our Aviationtags their unique charm – the charm of a vintage product crafted from upcycled materials. These quirks are not the result of the production process, they simply reflect the state of the aircraft material we use when it was extracted. The original aircraft paint of this edition is rather sensitive, so please take good care of your tag!
If you want to use it as a key-chain or bag-tag we strongly suggest to use the Aviationtag protection cover.
Prices Including P&P
UK - £48.95
Europe - £51.95
Rest of World - £53.95
IF YOU ARE A SUBSCRIBER TO OUR LHR MAGAZINE, PLEASE USE YOUR DISCOUNT CODE AT CHECKOUT TO GET YOUR £2 DISCOUNT.
Earn
0
reward points with this purchase
Add This Product To Your Wishlist