PLUMSTEAD DELIVERS The Story of a Bus Garage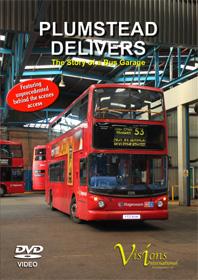 Description
PLUMSTEAD DELIVERS
The Story of a Bus Garage
Plumstead Garage in south-east London has an allocation of 185 buses, so keeping them all operational is a challenging task. We were allowed unprecedented behind-the-scenes access to find out how it's done. Along the way we picked up a huge amount of detail, much of which has been incorporated in an informative script. Needless to say, the pictures are revealing too, and will provide you with a full understanding of how a big, modern bus garage operates:
 The programme sections:
~ A full tour of the mechnical areas, including the major repair shed, exam shed, brake test area, paint shop and MOT bay.
~ The control room, the iBus room, the drivers' signing-on point and the back offices.
~ The evening run-in - showing the day's entire allocation returning to base for fuel and a wash before being parked for the night. You will also see how buses are re-allocated for the next day.
~ The 'cab ride' features Plumstead's route 122, running between the garage and Crystal Palace. We scissor out the really interesting bits and mix them with roadside shots.
~ The routes - A roadside view of all twelve of the garage's double-deck and single-deck routes featuring every type on the allocation . . . including a surprise new arrival.
 Plumstead Delivers . . . and so does this DVD 
Features: Motion menus, scene selection, 'commentary off' option.
Approx 73 mins
Earn
0
reward points with this purchase
Add This Product To Your Wishlist