LONDON GEMINI 2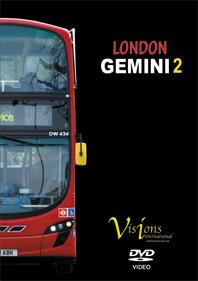 Description
LONDON GEMINI 2
LONDON GEMINI 2 picks up the story of the Wrightbus double-decker where LONDON GEMINI left off, and focusses on the second generation, revamped models delivered to the capital since 2009.
Programme sections:
 The early HEVs
Arriva: The integral buses based on the VDL chassis; the early DW200 series and the later 'whole vehicle' spec DW400 batch.
Go-Ahead: The WVL series continues - Eclipse Gemini 2s on the Volvo B9TL chassis.
First Group: The conversion of bendybus route 18 to Gemini 2, and later batches for west and east London.
Metroline joins in with focussed batches for new contracts in west and north London, including the iconic route 24.
The later hybrids: The Volvo B5LH models delivered to Arriva, Go-Ahead and Metroline
The Oddities: The buses 'pinched' by The Shires, the Northumberland Park switchover, and in the future . . . Gemini 3?
The routes the buses were ordered for, and the routes they've migrated to, are explained in an informative script, backed up by summary graphics at the end of each section - in short, pretty much all you need to know about the Wrightbus Gemini 2 in the capital city.
Features: Motion menus, scene selection, 'commentary off' option.
Approx 82 mins
Earn
0
reward points with this purchase
Add This Product To Your Wishlist