LONDON HERITAGE 2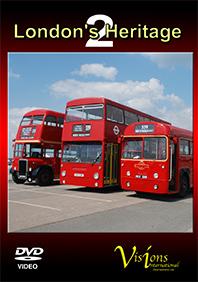 Description
LONDON HERITAGE 2
Londons Heritage 2 features more than 100 working buses from twenty-two different types that once pounded the streets of the capital. In addition, there are extended features on the last Routemaster built, RML2760, and a stunning array of buses working Route 76 as part of Tottenham garage's centenary celebrations.
As you would expect, all variants of the Routemaster, from the standard RM to the RML and RMC are covered in depth, as well as prototypes RM1 and RML3. Numerous RTs in their various forms also feature, along with types that traditonally receive  lesser billing than the icons. Older vehicles still, such as the G Type  and NS Type, also have their place on this DVD alongside more modernn  buses such as the Titan and the Olympian. Single-deckers like the RF and the GS feature prominently as they each celebrate  significant anniversaries in 2012/13. And there are Merlins, Leyland  Naional and Leyland Tiger too.
Filmed at numerous locations, including Alton, Brooklands, Duxford, East  Grinstead, Hertford, Maidstone, Sevenoaks, North Weald, South Mimms,  Walthamstow, Weybridge, Wisley and The City of London, the action is non-stop. If you love a drop of London nostalgia, this is the DVD for you.
Features: Motion menus & scene selection.
Approx 76 mins
Earn
0
reward points with this purchase
Add This Product To Your Wishlist