MD82 American Airlines co-branded United Airlines N922TW (Silver)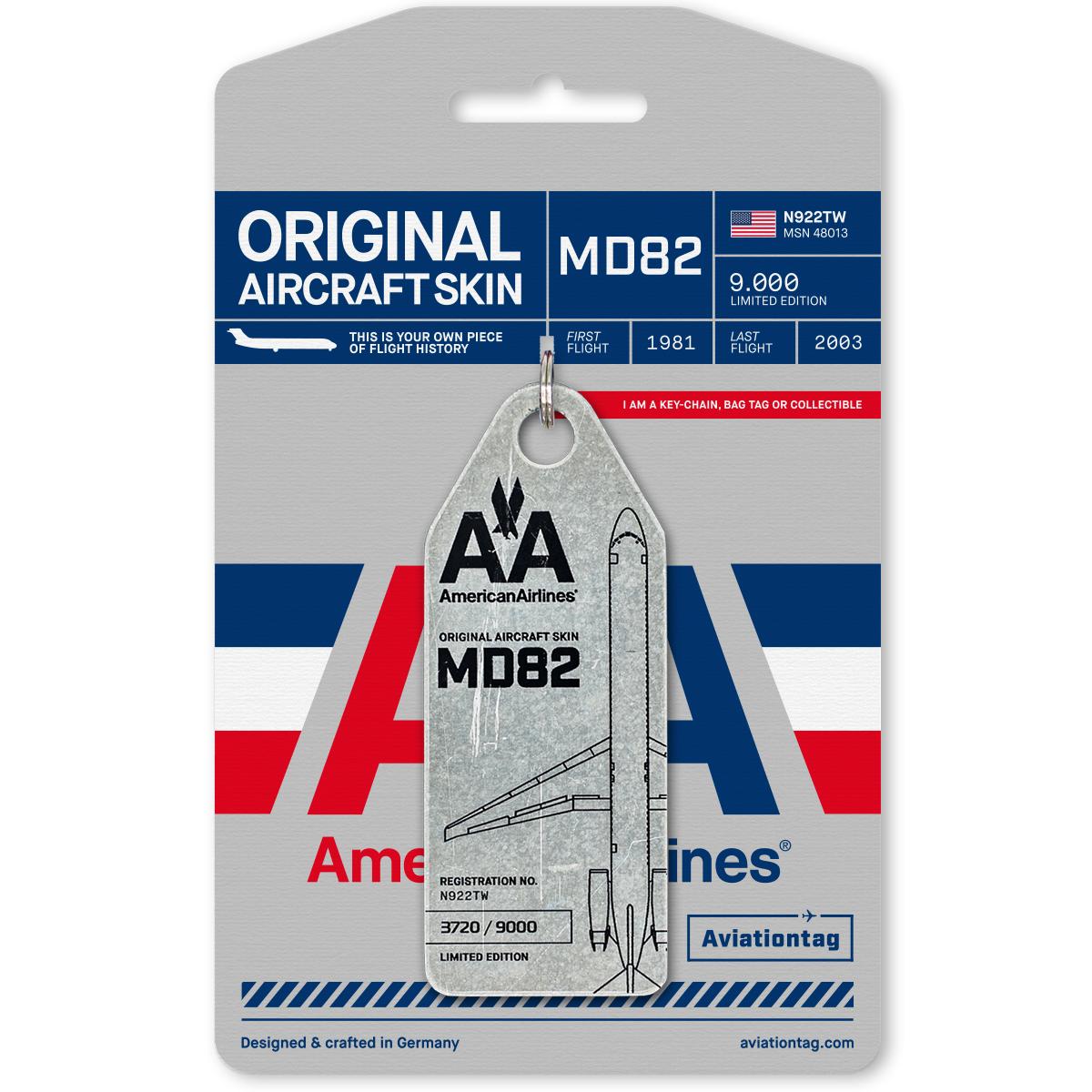 Description
The American Airlines "MAD DOG" edition!
In the eighties and nineties, the MD80 gained cult status at American Airlines. Now Aviationtag is proud to present an exclusive series officially licensed by American Airlines crafted from one of the aircrafts!
The N922TW was completed on 26 July 1981 as an MD81 and initially took to the skies for Swissair before it was taken over by Trans World Airlines (TWA) in 1997 and converted into an MD82. In 2001 it was transferred to American Airlines – along with the rest of TWA.
In April 2003 it landed in Roswell, New Mexico, which was to be its last stop. Now its fuselage is being given a new purpose: as a limited-edition Aviationtag. The series is officially licensed by American Airlines and, thanks to almost 20 years of retirement basking in the desert sun of New Mexico, has a unique retro look, in some cases even sporting major scratches.
Note: Every tag is unique. Depending on the plane, tags may vary in terms of haptics, material thickness and colour. Small blemishes bear witness to the plane's long history and are an authentic reminder of its glory days over the clouds. Small scratches, flaky paint and imperfections are totally normal and give our Aviationtags their unique charm – the charm of a vintage product crafted from upcycled materials. These quirks are not the result of the production process, they simply reflect the state of the aircraft material we use when it was extracted. The original aircraft paint of this edition is rather sensitive, so please take good care of your tag!
If you want to use it as a key-chain or bag-tag we strongly suggest to use the Aviationtag protection cover.
Prices Including P&P
UK - £29.95
Europe - £32.95
Rest of World - £34.95
IF YOU ARE A SUBSCRIBER TO OUR LHR MAGAZINE, PLEASE USE YOUR DISCOUNT CODE AT CHECKOUT TO GET YOUR £2 DISCOUNT.
Earn
0
reward points with this purchase
Add This Product To Your Wishlist