PRESIDENT FADE-AWAY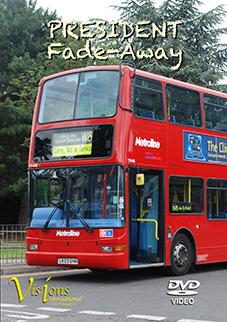 Description
PRESIDENT FADE-AWAY
The Plaxton President double-deck body, built by Northern Counties, first appeared in London in 1999. By the time production ended in 2005, more than a thousand vehicles had been supplied to London operators, built onto three different chassis types - Dennis Trident, Volvo B7TL and DAF DB250LF. They came in two lengths and some of the early examples even had centre staircases!
Now, in 2014, many of the early vehicles have been withdrawn from TfL work and those that remain are in the twilight of their careers.
This programme looks back over the last three years, showing many of the buses now withdrawn, several routes that Presidents no longer work, and those they still cling on to today.
Some continue working in the capital as trainers, others have become sightseeing buses, and surviving 'front-line' vehicles continue to turn up at weekends on rail replacement work. President Fade-away shows them all.
 Features: Motion-menus, chapter points and our commentary off option.
Approx 72 mins
Earn
0
reward points with this purchase
Add This Product To Your Wishlist