SHOWBUS 2012 The Official DVD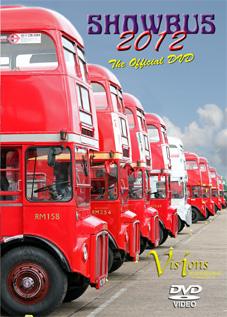 Description
SHOWBUS 2012
The Official DVD
Whether you attended Showbus 2012 or not, you won't want to miss the DVD of the Duxford show. This remarkable event was covered by five of our cameramen from numerous locations in and around the site.
Programme sections include:
The Arrival - A huge variety of buses and coaches approach the site from all points of the compass but pass one of our camera crews somewhere. The Customs Posts - Once inside the site, each bus is received at 'baggage claim' and allocated its designated spot in the various displays. We were given unlimited access by the organisers, allowing our cameras to set up in restricted areas so you get the very best views of this fascinating part of the day. Around the Site - We pick out the most interesting exhibits from the displays and look around the extensive sales stand area. The Jubilee Parade - The aim was to include a bus from every year of the Queen's reign to celebrate her 60th year. How many actually featured on the road run from Royston to Duxford, and how many more featured in the parade at the airfield? Anniversaries - As well as the Queen's Jubilee, AEC celebrated its centenary in 2012, the red London RF reached the 60 year mark, and the Bedford twin-steer clocked up its half-century. So there were plenty of VALs and plenty of Regals to be seen . . . and more than a hundred AECs. The London display - Especially impressive in 2012 because of the AEC factor. Grouped by type, the individual buses were lined up in numerical order to provide numerous photo opportunties. We also take a look inside two of the more interesting vehicles. New deliveries - For the younger enthusiast and fans of the current scene, there were plenty of modern buses too, from the latest Enviros to the latest Wrightbuses and the London 'Borismaster' . . . and the first sightings of the new '62' plates. As a bonus - Two former Maltese buses were in attendance and a coach which, despite being built in 1970, had never been registered!
Welcome to Showbus 2012 - 
DVD features: Motion menus, scene selection and a commentary-off option
Approx 75 mins
Earn
0
reward points with this purchase
Add This Product To Your Wishlist