STREETS OF LONDON V1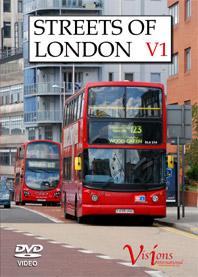 Description
STREETS OF LONDON V1
Streets of London explores different aspects of TfL operations in the capital and starts from a simple premise: If we find something interesting, you will too. With more than 8,000 vehicles in the various fleets, a huge number of routes and more than a hundred different bus types, it's taken us the best part of a year to get round the entire network and form an accurate picture of the current scene.  
In this volume:
 The Square Mile: The City of London financial area isn't all banks, grand buildings and branches of Starbucks. There's dozens of bus routes too, criss-crossing the narrow streets in a mesmerising tangle. We un-pick the spaghetti and show you some of the very best locations to visit.
Single-Deckers: We round up some of the more interesting . . . by which we mean routes that are not only worked by Enviro 200s.
Bendy Farewell: After a very short period, the articulated experiment in the capital has been brought to an end. Starting with route 25 and working through to the last survivor, route 207, this is our survey of the final year of Mercedes Citaro artics.
The RV1: You've probably heard about it, but have you seen it close up? The plan was to have eight hydrogen fuel cell buses running between Aldwych and Tower Hill in 2011, but the reality has been very different. Count the different types!Potters Bar: As a taster of future programmes, we head out into the country (about as far as you can go, London-wise) for a tour of the garage and a re-visit for the 2011 open day.
Touristas: Love them or hate them, sight-seeing tours do add extra interest. And there are so many.
iBus: What is it, where can you find it, how does it work, and what happens behind the scenes? We invade a control room to find out.
Routemasters: The 9H and 15H - RMs, refurbished, Stagecoach and First Group. London's major icon marches on.
DVD Features: Motion-menus, chapter points and our commentary-off option.
Quality Assurance: Each DVD is factory-pressed from an original glass master.
Approx 75 mins
Earn
0
reward points with this purchase
Add This Product To Your Wishlist