STREETS OF LONDON V2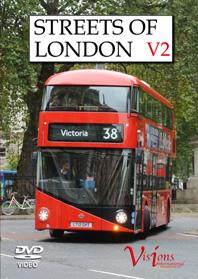 Description
STREETS OF LONDON V2
The Streets of London series explores diverse aspects of TfL's bus operations in the capital and starts from a simple premise: If we find something interesting, you will too. With more than 8,000 vehicles in the combined fleets, a huge number of routes and more than a hundred different bus types, there is always plenty to enjoy . . . as Streets of London sets out to show. In this volume:
New Buses For London: The two new types on London's streets in 2012, both from Wrightbus - the single-deck Streetlite and, of course, the 'Borismaster'. As well as day-to-day running on route 38, the section includes footage of the New Bus launch in Trafalgar Square in December 2011.
Central London: Following on from Volume One, this section takes a close look at the myriad of routes and types to be found in the central area of London - the 'West End', as it's often known.
Route 3 Changeover: What happens when a new contract brings new buses onto a route? We follow the process with Abellio's route 3, which exchanged Tridents for Enviro 400 hybrids at the start of 2012. We go behind the scenes at Battersea garage and then provide a 'cab ride' along the busiest section of the route, from Kennington to Oxford Circus.
London Archive: Everything changes so fast that five years back could be considered as archive. We take a trip to 2002 and find a bus scene that's almost unrecognisable today.
Top Twenty: A rundown of numbers 1 to 20 route-wise . . . in reverse order, of course.
Rail Replacements: On almost every weekend London buses stand in for trains, especially during the never-ending upgrade of the Underground. The big operators run alongside the smaller companies, as do lots of older buses, in this fascinating section.
DVD Features: Motion-menus, chapter points and our commentary-off option.
Approx 79 mins
Earn
0
reward points with this purchase
Add This Product To Your Wishlist