STREETS OF LONDON V3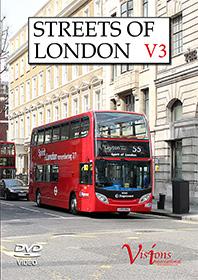 Description
STREETS OF LONDON V3
The third volume of Streets continues with the same format as the previous  two. We work on a simple premise If we find something interesting, you  will too. With more than 8,000 vehicles in the combined fleets, a huge  number of routes and more than a hundred different bus types, there is  always plenty to enjoy . . . as Streets of London sets out to show. In this volume:
First Farewell: We feature the last few months of First's operations in London. Looking at the various routes operated by each garage
Rainham Prepares: Following on from the first section, we make a visit to Rainham garage to see the preparations being made to take over the last of the First routes.
Ch. Ch. Ch. Changes: We look at the changes that have occurred over the last year on the prestigious Route 24. From Enviros to New Gemini 2s and of course the New Bus For London.
West London: This time we feature the routes and operations in the area to the west of Marble Arch and Hyde Park Corner out as far as Shepherds Bush and Fulham. Includes the Borismasters on routes 9 & 11.
Metrobus Single-Deckers: Metrobus use an interesting selection of single-deckers on their routes. We take a visit to Orpington to seek them out
Spirit of London: This iconic bus returned to operation in April, we show you how the  fire damage was repaired, the final preparations at Rainham, its appearance at Brooklands and out on Route 55.
 Features: Motion-menus, chapter points and our commentary off option.
Approx 76 mins
Earn
0
reward points with this purchase
Add This Product To Your Wishlist