Streets of London V5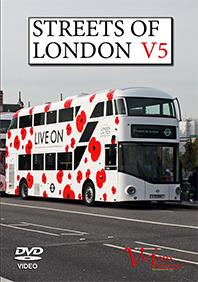 Description
Streets of London V5
Streets of London 5 continues where programmes one to four left off, with a selection of subjects we find interesting . . . in the expectation that you will too. In this Edition: 
Before the Boris: A reminder of how seventeen routes converted to New Routemaster – before and after.
Poppy Interlude: TfL's Westminster line-up of the 2015 poppy vinyl buses . . . on a sunny day for once.
Westbourne Park Open Day: Behind the scenes footage of the event, the visiting buses and the free rides.
Around the Block: Unravelling the mysteries of central Croydon, Bromley South and Orpington. Are the bus routeings really as complicated as they look on a map? Yes, they are.
East London Archive: A short, sharp blast of London buses in liveries you may have forgotten.
New Buses for London: A round-up of the many new models introduced onto London streets in 2015 – from ADL to Wright to Optare to Mercedes to Irizar. 
DVD Features: Motion Menus, Chapter Points, 'Commentary Off' option 
Quality: This is a factory-pressed DVD manufactured from a glass master
Approx 76 Mins
Earn
0
reward points with this purchase
Add This Product To Your Wishlist