STREETS OF LONDON V6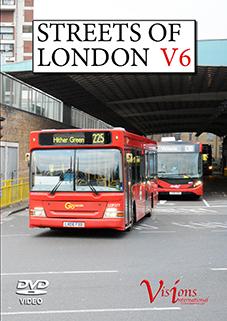 Description
V6 features the following sections:
Barkingside Branding - All the branded routes feature.
Aldwych Then & Now - An interesting comparison between 2011 & 2018. Every single route has seen some kind of change.
Alphabet Routes - A selection of the Capital's routes which begin with a letter.
Disappearing Darts - A look at those that have departed in the last year or so and those that are hanging on in early 2018.
Bus Stations - Featuring action from Stratford, Euston, Vauxhall and Tottenham Hale.The Electrics - With more electrics coming on stream we look at the routes that now run on batteries up to and including route 153.
A wide variety of bus types feature in the programme from Presidents through to the latest Van Hool hydrogen bus.
Narrated by David Maxey. Running time is approximately 80 minutes and the DVD has our commentary on-off feature.
Approx 80 Mins
Earn
0
reward points with this purchase
Add This Product To Your Wishlist