Underground Survivors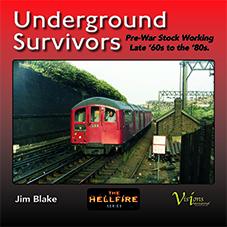 Description
This book looks at London Underground electric rolling stock that dated back to before World War Two and survived into the late 1960s though to the 1980s. The stock in question may be divided firstly into sub-surface stock, and secondly into tube stock. O, P, Q and R surface Stock is included alongside the Standard & 1938 tube stock. In addition some of the service stock and the stock moved to the Isle of Wight also feature.
21cm x 21cm ~ 100 pages ~ 
170 gsm glossy pages
Over 125 photos
Prices including postage:
UK - £18.95 - Europe - £26.95 - Rest of World - £30.55
PLEASE NOTE: 
Orders must be placed by 15th March 2021. We will then place the order and expect delivery around 31st March 2021.
Earn
0
reward points with this purchase
Add This Product To Your Wishlist